First speakers revealed for CISO 360 Congress – the new event for security leaders and risk managers.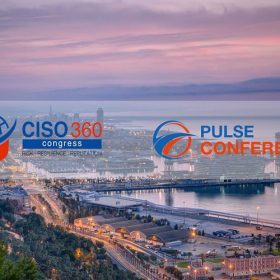 First speakers revealed for CISO 360 Congress – the new event for security leaders and risk managers.
Europe's most senior security leaders and risk managers will meet up in Barcelona 5-7 July 2017 to compare strategies to deliver the highest degree of security and privacy in a fast-changing digital landscape.
London, UK, 16 February 2017: Pulse Conferences is delighted to announce the first speakers for the CISO 360 Congress, to be held in Barcelona on 5-7 July 2017.
This groundbreaking event will tackle critical issues surrounding the sustainable protection of business assets and reputation as cybersecurity becomes an increasingly important driver of enterprise value, making it a 'must attend' for chief information security officers and chief information risk officers alike.
"It is time for action and a critical share amongst thought leaders and doers on what has actually been achieved, how and why," says Sara Hook, Director of Pulse Conferences. "Our mission is to bring the world's top CISOs together with other c-level executives to pool brain power and to develop best practices and new standards to lead sustainable security programmes that fully connect with business, legal and technology objectives."
Held under the Chatham House Rule, sessions will cover questions such as: How are CISOs forging new roles and standards in the age of IoT and digital transformation? How are key business areas maturing and how can security directors stay one step ahead of change amidst ever more complex supply chain collaborations?  What is the latest in global regulation, compliance and legislation and how can the CISO achieve a balance between risk-reward?  The agenda includes a CISO 360 Boardroom discussion that offers a direct peer to peer benchmarking opportunity.
Recruitment to our speaking faculty is now underway and Pulse is pleased to announce that the following experts are already confirmed to participate:
Robert Coles, Chief Information Security Officer/Head of Information Protection & Privacy, GSK
John Meakin, CISO, Burberry
Michael Colao, Head of Security, AXA UK
Dimitri Chichlo, VP, Senior Manager Information Security & BCM, Edmond de Rothschild
Daniel Brunner, Head of Security and Architecture, RUAG AG
Gadi Evron, Chairman, Israeli CERT
Dr. Adrian Davis, Managing Director EMEA, (ISC)²
Lady Olga Maitland, Founder, Defense and Security Forum
Dr. Sally Leivesley, Director, NewRisk Ltd
Over the coming weeks they will be joined by a host of other high-profile speakers. Attendance at this event will cost £500 for practitioners who register before 5 May 2017. Please quote 'press release' when booking online.
To reserve your place at this exciting event, register your interest or visit www.pulseconferences.com.
NEWS FOR IMMEDIATE RELEASE