Announcement of Pulse Conferences and TEG7 Training Collaboration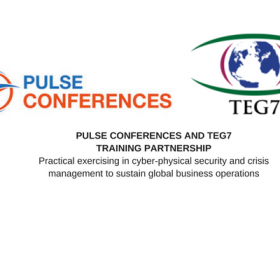 Delivering practical exercising on cyber-physical integrated security and crisis management training…
Download the press release here.
Pulse Conferences announces the commencement of a transformative event collaboration with The Exercise Group7 LLP to deliver practical exercising on cyber-physical integrated security and crisis management training.
Highly practical risk reduction exercises will prepare organisations to build resilience and security strategy through the highly effective medium of scenario exercises, case examples and using the very latest technologies. The exercising events are offered as special change management events in cyber and physical security.
 Exercising and training including:
Cyber threat intelligence
Catastrophic risk for cybersecurity, audit, finance, physical security for insurance, security and risk assurance professionals
Catastrophic risk theory, practice and calculations
Insider threat – find the insider
Espionage and intelligence
Integrated cyber and physical – Penetration testing
Security audit
Physical – Strategy and leadership decision making – case studies and scenario for crisis response experience
Cyber – Policy and standards for systems security
Physical – Crisis scenarios of hostage taking for preventative planning
Cyber and physical – Risk and crisis transformation in the company
Communications and crisis response and media for brand protection
Cyber and physical – Attack the network
London, 30 August 2017
Further information:
+44 (0)20 7936 8989
TeamPulse@pulseconferences.com