Virtual Roundtable: CISO 360 Nordics
Building cyber trust through effective identity and PAM strategies
*Delegate passes are limited and only available to book by in-house practitioners and do not apply to persons or companies providing advisory services or solutions to the security community.
You are invited to join our virtual discussion, CISO 360 Roundtable – Nordics, on Wednesday 18 November at 12:30-14:00 CEST to connect with peers and to benchmark with CISOs and senior cybersecurity peers from the Nordics. This live event will include a dynamic and engaging discussion between CISOs and senior cybersecurity practitioners.
Led by, with and for CISOs, this is an excellent opportunity to benchmark with peers on building resilience around identity and access management and the shift in cyber culture that is required for organisations to move forward more effectively.
Timings
12:30 – 12:40
Introductions with arriving guests
Master of Ceremonies: Clive Room, Director,

Pulse Conferences

12:40-12:50
Meet the Co-Chairperson and Speakers

12:50 – 13:55
Roundtable Discussion

All participants contribute to the discussion.

13:55 – 14:00

 

Summary and Goodbyes
Sponsored by


Hosted by


CISO Co-Chairperson – to be announced shortly!
Caroline Lawson, Identity Strategist – Northern Europe, SailPoint
Tom Scase, Senior Solutions Engineer, BeyondTrust
Clive Room, Director, Pulse Conferences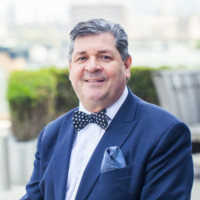 Clive has worked as a marketeer within cybersecurity since 2000. As the Marketing Manager at Portcullis Computer Security he organised all their bespoke events from seminars to hospitality events like the famous Portcullis Arms during Infosec. He was also responsible for their involvement with conferences and exhibitions all over Europe. His experience in promoting and presenting at cyber security events is matched by his passion for helping people understand the critical importance of mitigating the risks and protecting themselves and their organisations from cybercrime. He believes that in terms of reputational damage and operational costs, security breaches should be a key concern of everyone from the ground floor worker up to board and director level. Clive was Chairman of The White Hat Committee, the charity for the information security industry, which raises money for ChildLine and Barnardo's throughout the year. This January's White Hat Ball was the most successful to date raising over two hundred thousand pounds and the next White Hat Car Rally is in September. Clive is proud to be a part of the dynamic team bringing CISO 360 Congress to the marketplace as a game changer in cybersecurity events.

SailPoint, the leader in enterprise identity governance, brings the Power of Identity to customers around the world. SailPoint's open identity platform gives organizations the power to enter new markets, scale their workforces, embrace new technologies, innovate faster and compete on a global basis. As both an industry pioneer and market leader in identity governance, SailPoint delivers security, operational efficiency and compliance to enterprises with complex IT environments. SailPoint's customers are among the world's largest companies in a wide range of industries, including: 7 of the top 15 banks, 4 of the top 6 healthcare insurance and managed care providers, 9 of the top 15 property and casualty insurance providers, 5 of the top 15 pharmaceutical companies, and 11 of the largest 15 federal agencies.

BeyondTrust is the worldwide leader in Privileged Access Management (PAM), empowering organizations to secure and manage their entire universe of privileges.  Our integrated products and platform offer the industry's most advanced PAM solution, enabling organizations to quickly shrink their attack surface across traditional, cloud and hybrid environments. The BeyondTrust Universal Privilege Management approach secures and protects privileges across passwords, endpoints, and access, giving organizations the visibility and control they need to reduce risk, achieve compliance, and boost operational performance.  Our products enable the right level of privileges for just the time needed, creating a frictionless experience for users that enhances productivity. With a heritage of innovation and a staunch commitment to customers, BeyondTrust solutions are easy to deploy, manage, and scale as businesses evolve. We are trusted by 20,000 customers, including 70 percent of the Fortune 500, and a global partner network.