CISO 360 Dinner Roundtable – Identity Security in the Cloud
Adapting and simplifying a roadmap to build an identity security strategy for the cloud. What does a zero trust approach to identity security look like?
Tuesday, 26 October, 17:30-21:30
The Goring Hotel – Garden Room

Belgravia London
Cloud adoption is at an all-time high and predictions point towards the majority of future failures being a result of improper management of identities, access and privileges.
Hosted by Pulse Conferences, sponsored by SailPoint, you are invited to attend this roundtable discussion in the inspiring and private dining setting of The Goring Hotel to hear what CISO peers are doing to simplify identity management projects to protect against cyber threats in a diverse workforce and that target digital identities.
The core objective of the discussion is to connect peers for an energetic debate on the practical approaches, realities, challenge areas, and what metrics get the best response for identity security. Questions that are certain to be covered include:
Has your digital pivot accelerated an identity centric security programme?

How has the speed of your organisation's cloud adoption caught you off guard?

What is next?

What are resilience strategies and tools that are working, not working

How can we build an effective identity centric security strategy without re-inventing the wheel?

What are practical ways to adapt and simplify an identity security roadmap?

What do customer first identity and access management strategies look like?

How can we get better at controlling privilege change?

What does a zero trust approach to identity security look like?
Conducted under The Chatham House Rule, the discussions will be co-chaired by a leading CISO alongside a senior strategist from SailPoint. Clive Room, a Director at Pulse Conferences will be your Master of Ceremonies for the evening.
If you can accept, kindly register online to confirm your place at the table. There is no cost to attend. Places around the table are limited and confirmations will be done on a 'first to confirm' basis.
Many thanks for kindly considering this invitation. We hope that you can join fellow CISOs for what promises to be a evening of fascinating discussion, a top culinary experience and great company!
17:30-18:30       Guests arrive and welcome drinks
18:30-21:00       Discussion while dinner is served
21:00-21:30       Conclusions, goodbyes and guests depart


About SailPoint
SailPoint is the leader in identity security for the cloud enterprise. We're committed to protecting businesses from the inherent risk that comes with providing technology access across today's diverse and remote workforce. Our identity security solutions secure and enable thousands of companies worldwide, giving our customers unmatched visibility into the entirety of their digital workforce, and ensuring that each worker has the right access to do their job, no more, no less. With SailPoint at the foundation of their business, our customers can provision access with confidence, protect business assets at scale and ensure compliance with certainty.
Stay up-to-date on SailPoint by following on Twitter and LinkedIn and by subscribing to the SailPoint blog.
Co-Chaired by:
Stephen Khan, CISO Office, Department of Health and Social Care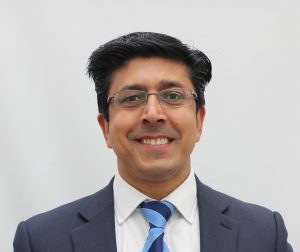 Stephen is an experienced senior leader and corporate executive with over 20+ years of cross sector experience implementing successful cyber programmes in demanding global environments including Financial Services, Pharmaceuticals, and Healthcare (HSBC, RBS, GSK, SIEMENS). He provides strategic vision, leadership, and technology expertise with a proven track record for effective cyber risk management and digital business enablement. With deep technical expertise in cyber security and enterprise cyber security risk management, Stephen has built a strong track record of creating and leading global strategic change initiatives to drive tangible digital business benefits and outcomes. Prior to his current role, Stephen was Global Head of Technology and Cyber Security Risk; Security Architecture & Engineering at HSBC. Before this, Stephen was at RBS and held the position of Global Head Security Strategy, Architecture and Engineering; and Global Head of Security Transformation programmes.
He is currently Chairman of an executive cyber industry forum (ClubCISO) and Chairman of both The White Hat Ball, which has raised £2m+ over the last 15 years to support UK NSPCC and The White Hat Rally which supports Barnardo's, a UK charity. He is also a Board member of RISCS which is funded by UK National Cyber Security Centre, a partnership between public, private, and academic organisations to support development of key areas which advanced cyber security across organisations.
Ben Bulpett, EMEA Marketing Platform Director, SailPoint
Ben is the SailPoint EMEA Marketing Platform Director, working across the region he supports the local SailPoint teams, partners and customers in helping define their strategy and adoption of an integrated Identity Governance platform. He also works closely with product management and the CTO office in inputting in future product development.With over 25 years' experience in the software industry; where he has led teams,in the development and implementation of complex IT Security solutions in areassuch as; Access Management, Identity Management, Data Governance and Database etc across multiple verticals. Ben has travelled extensively throughout Europe, Middle East, Africa & America through his work responsibilities. He has spoken at numerous events on matterssuch as Security, Identity Governance and various related privacy issues.

The Goring, London
The Goring was built by Jeremy Goring's great-grandfather Otto in 1910 and has been lovingly run by the Goring family since its inception. A visionary, Otto Goring saw great promise in a plot of land situated at the Buckingham Palace end of what today is known as Beeston Place. After removing a public house and several cottages, the path was laid clear for the last grand hotel of the Edwardian era – The Goring.
Opened on the 2nd March 1910 this historic hotel was finally complete, along with en suite facilities and central heating in each and every bedroom – widely believed to be a world first. Today, The Goring remains a favorite address and hidden gem for anyone seeking out that impeccably English luxury hotel in the center of London.
The CISO dinner discussion will be hosted in the private Garden Room, which has its own conservatory area with a sliding wall of glass, leading out to The Goring Gardens.
Directions 
The Goring is well located to enjoy the best that this exciting city has to offer. Only a royal wave from Buckingham Palace and just a toss of a tote from Knightsbridge and Mayfair,
15 Beeston Place London
SW1W 0JW
Closest Tub & Train Stations

Victoria tube & train station: 3 minutes walk
Hyde Park Corner tube station: 12 minutes walk 
St James Park tube station: 12 minutes walk 
St. Pancras International Train Terminal
Travel Time: 30 minutes by car or 15 minutes by London Underground