Thank you to everyone who participated in the 6th CISO 360 Congress, hosted 6-8 July 2022 at Hotel President Wilson, Geneva.
Cybersecurity Leadership and Resilience Strategies
 CISO & DPO, 360 Treasury Systems AG, Germany    
"One of the few must-not-miss events for every CISO. Wonderful opportunity to learn new things, and have in-depth discussions on what really matters, with real practitioners and industry legends (still alive!)."
CISO, DPO and Director of Internal Controls, Comissão do Mercado de Valores Mobiliários, Portugal
"Great venue, great speakers, well-chosen themes. Overall, one of the best cybersecurity conferences I ever attended."
Information Security Manager – Awareness and Behavioural Change, Metro Bank plc, UK
"It was a wonderful event.  So good to start to be able to talk to people face to face and to be able to think outside of the "day-to-day responsibilities" box again."
Add 7th CISO 360 Congress – 5-7 July 2023 to your calendar
On 6-8 July, against the stunning backdrop of Mont Blanc and Lake Geneva, the President Wilson Hotel in Geneva played host to strategic conversations with some of the most knowledgeable personalities in the cybersecurity industry from all over the world. Created and hosted by Pulse Conferences, the 6th CISO 360 Congress – Geneva 2022 brought together CISOs and international cybersecurity leaders – from practitioners to luminaries –to compare and share how they are leading teams and driving their businesses forward, as well as their visions for the future.
CISO 360 – Geneva 2022 follows recent successes in Barcelona, Lisbon, Rome and Windsor. View highlights and video testimonials here from the previous CISO 360 Congress, hosted in Windsor last year and see what 2022 holds – www.ciso360congress.com.
Through keynote lightning talks, case uses, panels, think tanks, fireside chats and during the evening networking receptions, dinners, and a boat cruise, we got to know and challenge ideas. We heard what plans CISOs are making, what drives them and where their journeys are heading. We benchmarked cybersecurity strategies, tactics and tools with peers and we experienced unrivalled learning and engagement.  The journeys, predictions and game-changers spanned cloud computing, cyber in geopolitics, supply chain, detection, response and recovery, human security and culture, privacy, IoT, AI, SOC – plus breaking cybersecurity news – during this two and half day interactive programme.
Connect, innovate and leave inspired. Sit with peers who you know are largely facing a similar set of risks and opportunities
Benchmark in a trusted space with fellow CISOs, practitioners and for meeting technology luminaries
Learn from business executives, risk managers and technology luminaries outside the security 'echo chamber'
Engage in meaningful interaction with CISOs, innovators, investors and luminaries to collaborate
Pulse would like to say a heartfelt thank you to the International Speaker Panel – Geneva 2022 
Keynote Speakers
Col. Gérald Vernez, Founder and Director, digiVolution Foundation (& Former Cyber Defense Chief, Swiss Armed Forces) (Switzerland) – provisional

Michael Colao, Global Chief Underwriting Officer – Direct and Indirect Cyber Risks, AXA XL (UK)

Meyli Chapin, Founder and CEO, Trauma Brace (U.S)

Sounil Yu, CISO & Head of Research, JupiterOne (U.S.)
CISOs and Senior Practitioners
Allen Ohanian, CISO, Los Angeles County (U.S.)

Alan Jenkins, Interim CISO, NED & Mentor (UK)

Alyssa Miller, Business Information Security Officer (BISO), S&P Global Ratings (U.S.)

Barry Coatesworth, Director Cyber Security, risk and Compliance, Guidehouse & Recently Advisor, Scottish Power Renewables (UK)

Bev Allen, Head of Infosec Assurance / CISO, Quilter (UK)

Carole Embling, Information Security Manager – Awareness & Behaviour Change, Metro Bank (UK)

David Young, Head of Information Security, Tesco Bank (UK)

Dimitri Chichlo, Independent Non-Executive Director, JSC Ukreximbank; CEO and Owner, AndSecure (Switzerland/Ukraine)

Gadi Evron, CISO-in-Residence, Team8, Chairman of the Board, Israeli CERT (Israel)

George Eapen, Global CIO and CISO, Petrofac (UAE)

Graham Edwards, Most Recently Head of Cyber Security, Yorkshire Water (UK)

Ian Amit, Former CSO, Cimpress and Hunters (U.S.)

Ibraheem Khan, Senior Information Security Officer, Channel 4 & Head Chair, National Cyber Security-MCBIE (UK)

Jelena Matone, CISO, European Investment Bank (EIB), President, Women Cyber Force (Luxembourg)

Jeff Schiemann, CISO, A Large Crypto Bank (Switzerland)

Julia Harris, Information Security Assurance and Compliance Director, Flight Centre (UK)

Nick Gerteisen, Deputy CISO, Smith + Nephew (U.S.)

Dr. Abdullah A.I. Alnajem, International Cybersecurity Expert and Inventor (Saudi Arabia)

Matthias Muhlert, CISO, HARIBO (Germany)

Owais Ahmed, Senior Associate Director – Information Security Officer & Data Protection Officer, Mizuho Bank Europe N.V. (The Netherlands)

Dr Runli Guo, CISO, Gett (UK)

Paul S. Raines, Chief Information Security Officer, United Nations Development Programme (U.S.)

Peter Ling, VP Global Cyber Security Alliances, Mastercard (Canada)

Sandip Wadje, Global Head of Technology Risk Intelligence, BNP Paribas (UK)

Samuel Ubido, Information Security Manager, Uniper (UK)

Simon Riggs, CISO and IT Risk Officer (Interim), McKesson (UK)

Xander C.W. Heemskerk, Director Product Security – Group Security, Philips (The Netherlands)

Thomas Murphy, Strategic Intelligence Manager, Dragonfly (UK)

Dr Viktor Polic, CISO, International Labour Organization (ILO) – United Nations (Switzerland)
Luminaries and Strategists
Aubrey Turner, Executive Advisor, Ping Identity (U.S.)

Bernard Montel, EMEA Technical Director and Security Strategist, Tenable (France)

Dr Eduardo Solana, Senior Lecturer of Cryptography and Security, University of Geneva (Switzerland)

Elizabeth Hodges, Security Specialist, Telstra Purple (UK)

Craig Cooper, Chief Operating Officer, Gurucul (U.S.)

Gerald Crescione, Lead Programme Manager, Snyk (France)

Grant Revan, Head of Strategic Engagement, Red Sift (UK)

Jonathan Luff, Co-Founder, CyLon (UK)

Nathan Green, Sr. Subject Matter Expert: Cyber & Dark Web, Dataminr (U.S.)

Manoj Bhatt, IT Principal Lead, Telstra Purple (UK)

Marcus Alldrick, CISO Luminary (Former CISO and DPO, Lloyd's of London) (UK)

Michael Strobl, Senior Engineer, SecurityScorecard (Germany)

Lucas von Stockhausen, Senior Director of Security Engineering – International, Synopsys (Germany)

Lady Olga Maitland, President and Chairman, Defence and Security Forum (UK)

Paul Baird, Chief Technical Security Officer (CTSO), Qualys (UK)

Paul Kennedy, Head of Cyber Advisory, QinetiQ (UK)

Paul Squires, Lead Identity Strategist, SailPoint (UK)

Ray Stanton, Global Partner, IBM (UK)

Robert D. Rodriguez, Chairman & Founder, SINET & Venture Partner, SineWave Ventures (U.S.)

Prof. Dr. Robert Coles, Board Director/Governor, University of Brighton (UK)

Dr Sally Leivesley, Managing Director, Newrisk Limited (UK)

Stephen Cavey, Co-founder & Chief Evangelist, Ground Labs (Singapore)

Tim Ward, CEO, Think Cyber (UK)

Torquil Macleod, Director, Via Resource (UK)
Networking Agenda at a Glance
Tuesday, 5 July – Welcome Reception
19:00-21:00 Welcome By the Pool Reception – Terrace, President Wilson Hotel. Fly in and join this crucial ice-breaker! Kindly sponsored by Team8
Wednesday, 6 July – CISO 360 Congress Day 1
08:00-08:30 Coffee and Registration
08:30-17:30 Congress. 12:30-13:30 Lunch Kindly sponsored by ABS Group
18:00-18:30 Meet Up Drinks Glow Bar President Wilson Hotel. Group walks to the pier
19:00-22:20 Boat Cruise Reception and Dinner – Lake Geneva. Kindly sponsored by Qualys
Thursday, 7 July – CISO 360 Congress Day 2
08:30-08:55 Welcome Coffee
09:00-17:30 Congress.  13:00-14:00 Lunch Kindly sponsored by ABS Group
18:00-20:15 Cheese and Wine Tasting and Walking Tour of old town Geneva. Kindly sponsored by Mastercard
20:15-22:30 Dinner – Café Papon. Kindly sponsored by Red Sift
Friday, 8 July – CISO 360 Roundtable (Morning only)
09:00-12:30 Roundtable Discussion. Topics are based on CISO priorities input in advance.
12:30-13:30 Lunch on the Terrace and Goodbyes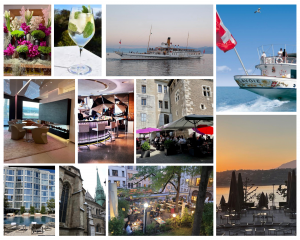 Pulse Conferences would like to thank everyone who participated, in-person or virtually in our 5th Annual CISO 360 Congress, 7-8 July 2021 that was hosted near Windsor in the UK.
View recent highlights, testimonials and materials!