Speakers – 5th CSO 360 Congress – Madrid 2022!



Frank Gardner OBE, BBC's Security Correspondent



Frank spent nine years as an investment banker in New York, London and Bahrain before switching to journalism and joining the BBC in 1995. Frank has reported extensively on the global ˜War on Terror' in Guantanamo Bay, Yemen, Afghanistan, Iraq and elsewhere in the Middle East.  In 2004 Frank survived being shot six times at close range by Al-Qaeda terrorists in a Riyadh suburb in Saudia Arabia. He went on to write the best selling book Blood and Sand, the poignant story of what can happen to your belief system when the culture you have embraced ends up trying to kill you.  Frank has gone onto write three best selling spy thrillers Crisis, Ultimatum and Outbreak. He was awarded an OBE in 2005 for services to journalism. In 2018 he was awarded the University of Southern California's Tommy Trojan Trophy for distinguished speaking.
As a career broadcaster and a witty and gifted communicator, Frank shares his passion for the Middle East, travel and adventure. He draws on a unique perspective and understanding of both domestic and international security. Frank's own personal story of survival combined with his extensive knowledge of Middle Eastern history and politics make for a compelling event.
CSO 360 Roundtable – Monday 7 March.
Kindly Chaired by:

Mark Wolsey, Group Security Director, CRH plc (UK)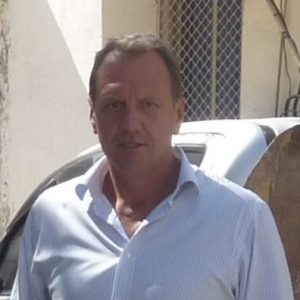 After 25 years' service as an officer in the Royal Marines, Mark made the transition into Corporate Security in 2006. He has been the Director of Global Security at Smiths Group, Cadbury, Philip Morris International and PwC before taking up their present position as Group Security Director at CRH. Specialties: Security of People, property, information and reputation. All levels of investigation (including fraud and corruption), risk assessment and mitigation, contingency planning, crisis management, business intelligence and business continuity.
CSO 360 Congress – 8 and 9 March
Kindly Chaired by:

Lady Olga Maitland, Chairman of the Board at Algeria British Business Council; President, Defence and Security Forum; Board Advisor (UK)

Lady Olga Maitland has wide experience in all major Governance, risk Management and Compliance issues in general and global Fraud and Corruption problems in particular. She is a special adviser to a number of dignitaries and a widely sought after speaker at all Major Conferences on several Corporate Governance issues. Lady Olga is a former British MP for the Conservative party. Prior to her political career she was a reporter for the Fleet Street News Agency, a columnist in the London.
International Speaker Panel (so far) including:

Back to Pulse Conferences