Pulse Conferences is delighted to announce that the 3rd CSO 360 Congress will be hosted on 4-5 December 2019 in the wonderful city of Budapest.
This trusted, community-based meeting is now an annual fixture in the diaries of Chief Security Officers and senior security practitioners. It enables truly global peer to peer sharing. We pride ourselves not only on who is on stage but who is in the room to bolster stimulating discussion and to share practical use cases on security challenges, successes, strategies and intelligence on the emerging threat landscape.
CSO 360 Congress tackles priority challenges for Chief Security Officers, most of whom oversee diverse areas and teams covering in corporate security, cybersecurity, information security, fraud, physical and executive and travel security, resiliency, forensics and investigations.  Held under The Chatham House Rule, the programme offers a silo-busting, integrated and converged security focus to reflect the backdrop of increasing levels of global volatility, uncertainty, complexity and ambiguity.
Connect with global security leaders – A new expert international panel of security experts will bring real experiences to pool brain power on the sustainability of global business amidst rapidly evolving threat landscapes and changes in geopolitical, technological and financial spheres.
Innovate your security strategy – Partake in this share of strategies, tactics and methods for improving the protection of clients, employees and business partners as well as the security of assets, information and reputation.
Leave inspired for action – Exchange practical approaches, innovation and strategies on the emerging threat horizon.
Hear directly what speakers, sponsors and delegates thought.   
---
Pulse Conferences would like to thank all speakers, sponsors and delegates who participated in the 2nd CSO 360 Congress, hosted in December 2018 in Vienna. See Archives here.
Speakers from CSO 360 2018
Special Keynotes
Misha Glenny, Investigative Journalist, Leading Expert on Cybercrime and Author of McMafia (UK)
Hugh Bicheno, Former SIS Officer, Kidnap and Ransom Negotiator, Risk Analyst and Best-selling Author of Conflict Studies
Lara Symons, Director, Hostage International – on stage interview with Thomas Olsson, a Former Hostage, and his wife, Berit Olsson
Neil J. Walsh, Chief Cybercrime and Anti-Money Laundering Section, Organized Crime and Illicit Trafficking Branch. Division for Treaty Affairs, UN Office on Drugs and Crime
International speaker panel
Andy Williams, VP Business Development & Quality Assurance, Safe Hotels Alliance (SWEDEN)
Angelina Sidonio, Global Travel Security and Intelligence Manager, Pearson plc. (UNITED KINGDOM)
Bob Lewis MBE, Former Head of External Cyber Assurance & Monitoring, Barclays (UNITED KINGDOM)
Cédrick Moriggi, Global Head of Security (CSO), LafargeHolcim(UNITED KINGDOM)
Crawford Robinson, Group Head of Investigations, British American Tobacco plc. (& Chief Operating Officer, Association of Corporate Investigators) (UNITED KINGDOM)
Charles Hecker, Senior Partner, Control Risks (UNITED KINGDOM)
Chris Meager, Security and Resilience, Barclay Simpson (UNITED KINGDOM)
David Clark, Head of Security, The Francis Crick Institute (& Chairman, ASIS UK Chapter) (UNITED KINGDOM)
David Nordell, Senior VP for Strategy, Policy and Law, CSCSS / Centre for Strategic Cyberspace and Security Science (ISRAEL)
Derek Cheng, CSO, TalkTalk (UNITED KINGDOM)
Dr. Christoph Rojahn, Partner, Head of Corporate Security Solutions, KPMG Germany (GERMANY)
Florian Polt, Group Security Officer, UNIQA Insurance Group (AUSTRIA)
Gavin W. Jones, Director of SABRE, Building Research Establishment (UNITED KINGDOM)
Georges-Pierre Cladogenis, Digital, Global Product Owner, Safety & Security / Program Messenger, Carlson Wagonlit Travel (FRANCE)
Graham Ayre, Senior Internal Auditor, ArgoGlobal (UNITED KINGDOM)
Graham Edwards, Recently Director of Security, Nationwide (UNITED KINGDOM)
Henry Wilkinson, Director of Intelligence & Analysis, The Risk Advisory Group (UNITED KINGDOM)
James Gooding, Director of Global Intelligence, InterContinental Hotels Group (IHG®) (UNITED KINGDOM)
James Kwaan, Cyber Security and Privacy Consultant, Lloyd's Banking (UNITED KINGDOM)
Jenny Reid, Owner, iFacts (SOUTH AFRICA)
Jeroen Meijer, Senior Partner, Control Risks (NETHERLANDS)
Jonathan Watkins, Business Development Director, Blackdot Solutions (UNITED KINGDOM)
Justin Crump, CEO, Sibylline (UNITED KINGDOM)
Lady Olga Maitland, Founder, Defense & Security Forum, Chairman, Copenhagen Compliance (UNITED KINGDOM)
Michelle Kay, Global Security Manager, Allen & Overy LLP (UNITED KINGDOM)
Liz Chamberlin, Executive Director, International Security Management Association (ISMA) (UNITED KINGDOM)
Luke Hull, Consulting Director – Europe, Cylance (UNITED KINGDOM)
Matthew Drew, Group Security Director, Rolls-Royce (UNITED KINGDOM)
Mark Lindsay, Senior Corporate Security Manager, Trans Adriatic Pipeline (SWITZERLAND)
Mark Wolsey, Group Security Director, CRH plc. (UNITED KINGDOM)
Nick Trigg, Enterprise Risk Management Consultant, BitSight Technologies
Ned Farmer, Geopolitical Risk Manager, American Airlines (USA)
Lady Olga Maitland, Chairman, Copenhagen Compliance (UNITED KINGDOM)
Patrick Hennies, Global Director Corporate Health, Safety & Security | Chief Security Officer, Henkel AG (GERMANY)
Paul Kelly, Vice President, Global Security Operations, Fox Film, TV and Entertainment (UNITED KINGDOM)
Paul Reither, CEO (Former Head of Security and Resilience, Oil and Gas), Diamond Advisory (AUSTRIA)
Peter Drissell, Director Aviation Security, Civil Aviation Authority (UNITED KINGDOM)
Rayna Milkova, Business & Client Intelligence Unit – Head of Russia & CIS, Deutsche Bank (UNITED KINGDOM)
Raz Manne, Corporate Security, JTI (AUSTRIA)
Richard Sumnall, EMEA Regional Head of Security, Uber (NETHERLANDS)
Richard Schönfelder, Senior Cyber Security Manager, Darktrace (GERMANY)
Roeland Stouthart, Head of IT, Kosovo Specialist Chambers, (Frmr CISO, International Criminal Courts) (NETHERLANDS)
Ryan Long, Director of Global Risk Intelligence, Global Safety & Security, McDonald's Corporation (USA)
Dr. Sally Leivesley, Director, Newrisk Ltd, A Founder Member, The Exercise Group7 (UNITED KINGDOM)
Dr. Victoria Baines, Visiting Associate, Oxford Internet Institute (Recently Trust & Safety Manager, EMEA, Facebook) (UNITED KINGDOM)
Werner Cooreman, Senior Vice President – Group Security Director, Solvay (BELGIUM)
---
"Embraces the changing threat environments, great experience, fabulous speakers, pertinent interesting focus"
Special Tribunal for Lebanon (The Hague)
"I just had the best conference ever!"
CCO, BT (Netherlands)
"A great one stop shop of the top CSO minds!"     
VP, Corporate Security and Resilience, Pearson (UK)
"I was extremely impressed by the content, quality, origination and administration of the Pulse product" 
MD, Tierra Nova Solutions (Sierra Leone)
"Simply the best event for security practitioners. Real expertise and knowledge sharing"     
Group CISO, Unipart Group (UK)
"This has been a fantastic event. Awesome speakers addressing a diverse range of interesting and relevant topics.  Also, great job by Team Pulse. We have been looked after so well! Thank you!"
Regional Security Director, Caterpillar Inc (Switzerland)
Key themes in Vienna 2018 included:
Evolving risks and opportunities for security – protecting nations and businesses
Integrated threat intelligence, identity management and incident response strategies
Brand protection – updates and challenges on IP and illicit trade
Kidnap and Ransom
Insider threat – new tactics
Investigations
Securing and leveraging advanced technologies – IoT, AI, machine learning

Boardroom: culture and engagement 
We are currently researching and building the 2019 programme. Please contact teampulse@pulseconferences.com if you are interested in helping to shape the new agenda!
Networking events – an integral part of any CSO 360 Congress experience!
All delegates, speakers and sponsors are encouraged to attend. There is no extra cost.
Our special dinners, receptions and cultural activities ensure that you will leave the event with new professional friends and international contacts!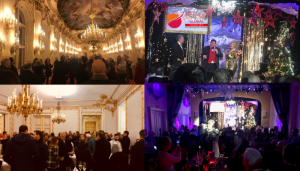 ---
Pulse Conferences Privacy Policy
To read about Pulse Conferences Privacy Policy and download in pdf format please click below.