Pulse Conferences is delighted to announce that the 3rd CSO 360 Congress will be hosted on 4-6 December 2019 in the wonderful city of Budapest.
Connecting minds on security, resilience and intelligence priorities to protect people, profits, property and reputation
Pulse Conferences is delighted to announce that the 3rd CSO 360 Congress will be hosted on 4-6 December 2019 at the Kempinski Corvinus in the wonderful city of Budapest.
This trusted, community-based meeting is now an annual fixture in the diaries of Chief Security Officers and senior intelligence, investigations and resilience practitioners. It enables truly global peer to peer sharing. We pride ourselves not only on who is on stage but who is in the room to bolster stimulating discussion and to share practical use cases on security challenges, successes, strategies and intelligence on the emerging threat landscape.
CSO 360 Congress tackles priority challenges for Chief Security Officers, most of whom oversee diverse areas and teams covering in corporate security, cybersecurity, information security, fraud, physical and executive and travel security, resiliency, forensics and investigations. Held under The Chatham House Rule, the programme offers a silo-busting, integrated and converged security focus to reflect the backdrop of increasing levels of global volatility, uncertainty, complexity and ambiguity.
Connect with global security leaders
A new expert international panel of security experts will bring real experiences to pool brain power on the sustainability of global business amidst rapidly evolving threat landscapes and changes in geopolitical, technological and financial spheres.
Innovate your security strategy
Partake in this share of strategies, tactics and methods for improving the protection of clients, employees and business partners as well as the security of assets, information and reputation.
Leave inspired for action
Exchange practical approaches, innovation and strategies on the emerging threat horizon.
New for 2019! CSO 360 Roundtable – We have added the Roundtable on Friday morning (6 December)! This is a pure benchmarking discussion held under The Chatham House Rule. No presentations, the attendees set the agenda.
First Speakers announced – 3rd CSO 360 Congress, Kempinski Budapest 2019
Armin Sick, Manager Aviation Security, Lufthansa (GERMANY)
Andy Williams, VP Business Development & Quality Assurance, Safehotels (SWEDEN)
Benjamin Blaylock, Senior Manager, Global Intelligence, Marriott (UAE)
Cedrick Moriggi, Global Head of Security and Resilience (CSO), LafargeHolcim
Dr Christoph Rojahn, Partner, Compliance & Forensic, KPMG AG (GERMANY)
Dvir Rubinshtein, Aviation SOC Manager, Security Division (ISRAEL)
Eduardo Jany, Executive Officer, Global Security Operations, Bloomberg LP (USA)
Guillermo Gaspoz, Global Security Advisor, DSM (NETHERLANDS)
Mohammed Baloch, Manager, Risk Intelligence, Amazon (USA)
Mark Reading, Managing Director, Seneca Risk (SIERRA LEONE)
Mark Wolsey, Group Security Director, CRH plc. (UK)
Marcus Alldrick, Former CISO, Lloyd's of London (UK)
Ned Farmer, Geopolitical Risk Manager, American Airlines (USA)
Liz Chamberlin, Executive Director, International Security Management Association (ISMA)
Lady Olga Maitland, Founder, Defense & Security Forum, Chairman, Copenhagen Compliance (UK)
Patrick Kane, Senior Director of Security, Atlas Air (USA)
Robert Telenta, Security Adviser – Field Operations – HQ, UNODC (AUSTRIA)
Robert Shaw, Senior Security Advisor, United Nations & Founder Member, The Exercise Group7 (TEG7)
Ryan Long, Director of Global Risk Intelligence, Global Safety & Security, McDonald's Corporation (USA) – provisionally confirmed
Dr Sally Leivesley, Director, Newrisk Ltd & Founder Member, The Exercise Group7 (TEG7)
William Sandover, Special Adviser, Intelligence and Analysis, Risk Advisory & International Affairs Adviser, Cathay Pacific Airlines (UK)
---
Key themes to date for CSO 360 Congress 2019 include
Strategies, tools and tactics required to proactively predict and mitigate threats….
HORIZON – Geopolitical insights into the global security landscape – hotspot mapping and predictions
LEADERSHIP – Culture, privacy and behaviours, engagement
INTELLIGENCE – Building effective intelligence; emerging threats
AVIATION & TRAVEL – Aviation security – decision-making behind the scenes!
INVESTIGATIONS – Investigations Roundtable
RISK – Cyber, privacy, data and identity, emerging realities
PLAN B – Response, crisis, emergency and business continuity
Hear directly what speakers, sponsors and delegates thought.   
---
Pulse Conferences would like to thank all speakers, sponsors and delegates who participated in the 2nd CSO 360 Congress, hosted in December 2018 in Vienna. See Archives here.
"Embraces the changing threat environments, great experience, fabulous speakers, pertinent interesting focus"
Special Tribunal for Lebanon (The Hague)
"I just had the best conference ever!"
CCO, BT (Netherlands)
"A great one stop shop of the top CSO minds!"     
VP, Corporate Security and Resilience, Pearson (UK)
"I was extremely impressed by the content, quality, origination and administration of the Pulse product" 
MD, Tierra Nova Solutions (Sierra Leone)
"Simply the best event for security practitioners. Real expertise and knowledge sharing"     
Group CISO, Unipart Group (UK)
"This has been a fantastic event. Awesome speakers addressing a diverse range of interesting and relevant topics.  Also, great job by Team Pulse. We have been looked after so well! Thank you!"
Regional Security Director, Caterpillar Inc (Switzerland)
Networking events – an integral part of any CSO 360 Congress experience!
All delegates, speakers and sponsors are encouraged to attend. There is no extra cost.
Our special dinners, receptions and cultural activities ensure that you will leave the event with new professional friends and international contacts!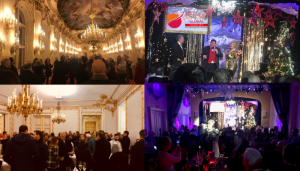 ---
Pulse Conferences Privacy Policy
To read about Pulse Conferences Privacy Policy and download in pdf format please click below.