SPEAKERS
2nd CISO 360 Congress, 20-22 June, 2018 Lisbon
Steve Wilson

Head of European Cybercrime Centre (EC3)
Europol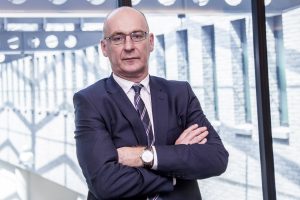 Steven originates from Ayrshire, Scotland. He was a Police Officer in Scotland from 1985-2015.
During this time, he served with Strathclyde Police, Scottish Crime and Drug Enforcement Agency, Her Majesty's Inspectorate of Constabulary and, since 2013, with the reorganisation of policing in Scotland into a national force, Police Scotland. Steven performed a variety of senior Detective roles and was responsible for the national units in Scotland delivering: witness protection, covert technical policing, fugitives, undercover policing, assisting offender programme and all forms of cybercrime and cyber enabled crime including online child protection. Steven was the Scottish representative on UK cyber governmental and policing groups and led on industry and academic partnership groups on cyber resilience in Scotland. Steven has also worked in covert policing, major investigations, sex offender management, Counter Terrorism investigations and represented the UK on International policing matters. Steven commenced as Head of EC3 on 18 January 2016.
Mikko Hypponen
Chief Research Officer
F-Secure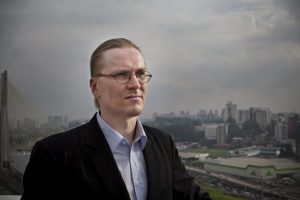 Mikko Hypponen is a worldwide authority on computer security and the Chief Research Officer of F-Secure. He has written on his research for the New York Times, Wired and Scientific American and lectured at the universities of Oxford, Stanford and Cambridge. He sits in the advisory boards of EUROPOL and the Monetary Authority of Singapore.
Chris Mohan
General Manager, Threat Research and Intelligence Security Operations
Telstra
Chris Mohan has worked for fortune 50 companies security teams, bringing insight and actionable measures to those firms' security posture and responsibilities. Chris' career has had him in grow from a world of front line IT operations through to advising and guiding those in boardrooms. His drive is to instil relevant, intelligent and practical security controls and practices that securely enable the business in an unpredictable online world. Chris became one of the few to achieve the prestigious GIAC Security Expert (GSE) certification and holds a number of other security and vendor qualifications.
Martin Borrett



Distinguished Engineer, CTO, IBM Security Europe
IBM
Martin Borrett is an IBM Distinguished Engineer and CTO IBM Security Europe. He advises at the most senior level in clients on policy, business, technical and architectural issues associated with security. Martin leads IBM's Security Blueprint work and is co-author of the IBM Redbooks "Introducing the IBM Security Framework and IBM Security Blueprint to Realize Business-Driven Security" and "Understanding SOA Security". He is Chairman of the European IBM Security Board of Advisors, represents IBM at GFCE and ECSO, is a Fellow of the British Computer Society, a Chartered Engineer (CEng) and member of the IET. Martin has a passion for sailing and has represented Great Britain; he is also a keen tennis player.
Jonathan Luff
Co-Founder
Epsilon Advisory Partner & CyLon
Jonathan Luff is the co-Founder of CyLon, the world's leading cyber security accelerator and seed investment programme, supporting more than 50 startups and creating more than £175m of value since 2015.  He is also the co-Founder of Epsilon Advisory Partners, where he works with some of the world's fastest growing technology companies, including Nest, Dataminr, and Rubikloud.
Before founding CyLon and Epsilon, Jonathan was a senior British Diplomat, serving in a variety of roles including as an advisor to Prime Minister David Cameron.
International speaker panel
Enquire about becoming a speaker
 We are always looking for:
keynote insights, cutting-edge 'live' demos

new best practice corporate case studies, fresh ideas, forward thinking topics on security and governance matters

sessions with actionable takeaways and positive contributions to the output reports

the world's smartest thinkers and doers in security, cyber, privacy, resilience, risk, governance, compliance
We welcome your input into shaping the agenda and speaker panels.
Our programmes are highly researched with practitioners who do the job day in and day out. They are organic to ensure that we remain agile to meet the most current requirements.
For further information, please contact Sara Hook
+44 (0)20 7936 8989 or sara.hook@pulseconferences.com
Back to Pulse Conferences