Testimonials – CISO 360 series
"Very Informative and experienced speakers form all different capabilities and sectors which made the forum extremely worthwhile. Great delegates as well to speak to and were clearly very keen on the content especially the TPRM (Third Party Risk Management) space where Mastercard Cyber & Intelligence fitted in. We went to meet and get connected with senior executives from all verticals/Business areas and we achieved that in spades. Our connections in region were built rapidly and our pipeline as a direct result will get larger whilst we build the Risk Recon brand in Middle Eastern region. " –

John Quinn EMEA Director – Global Cyber Security Partnerships Mastercard Cyber & Intelligence
"You brought the world's cyber concern to the UAE for awareness and also brought world experts to provide advice based on their own experience!" –

Head of Planning and IT Security, Al Dhafra Region Municipality (UAE)
""I would like to extend my appreciation having been given the chance to witness the success of your recent event. I look forward to a further outstanding line-up of events from your organisation!" –

Head of IT, intec, GOPA International Energy Consultants (Abu Dhabi)
"One of the few must-not-miss events for every CISO. Wonderful opportunity to learn new things, and have in-depth discussions on what really matters, with real practitioners and industry legends (still alive)."
–
Andreas Prass, CISO & DPO, 360 Treasury Systems AG, Germany
"One of the few must-not-miss events for every CISO. Wonderful opportunity to learn new things, and have in-depth discussions on what really matters, with real practitioners and industry legends (still alive)."
–
Andreas Prass, CISO & DPO, 360 Treasury Systems AG, Germany
"It was a wonderful event. So good to start to be able to talk to people face to face and to be able to think outside of the "day-to-day responsibilities" box again."
–
Carole Embling, Information Security Manager – Awareness and Behavioural Change, Metro Bank plc, United Kingdom

"Great venue, great speakers, well-chosen themes. Overall, one of the best cybersecurity conferences I ever attended."
–
Jorge Fernandes, CISO, DPO and Director of Internal Controls, Comissão do Mercado de Valores Mobiliários, Portugal

"The company and the thought-provoking sessions over the course of the conference have been fantastic. It has made me think about cyber risks and resilience in a different way. The Pulse Conferences team puts this together from the heart."
–
Matthias Muhlert Security Bear – CISO HARIBO, Germany

"The speakers, the content and the venue was awesome. The line up of speakers and their experience made me to attend the event. Also to gain insights of new security threat landscape.
"
–

Abdul Saleem, Project Manager, GERAB
"Great networking and learning from various cyber Guru's!
"
–

Sajjad Ahmad, Director of security, DP World. 
"Very professional speakers, panels are to the point and we discuss what the industry needs now.
"
–

Joseph Makram, CIO, EAL – Bank 
"Very informative, speakers were excellent. Rik and Prakash were the highlights of the event.
"
–

Mehboob Merchant, Lead Network and Security, SAAL Operating Systems
"Once you attend CISO 360, you become a part of the family. The socialising offered is the most important aspect. This community building through shared experiences makes it different from other conferences!"
–
Viktor Polic CISO, Head of Information Security and Assurance Services ILO – United Nations, Switzerland  
"What a week! Such a lovely venue, lovely city, and a fantastic collective of like-minded professionals. This was my first Annual CISO Congress, but not my first Pulse event, and Pulse did not fail to deliver their exceptional services once again. Sara and the team did a wonderful job, and pulled everything off brilliantly."
–
Richard Bloxam-Rose, Threat and Vulnerability Consultant, Computacenter, United Kingdom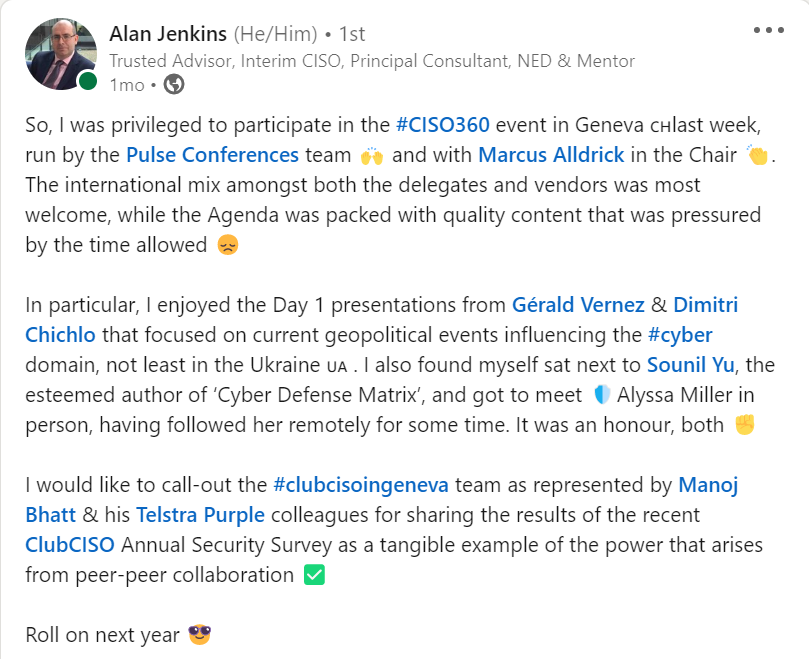 "It is hard to describe what an amazing experience it was to attend, in person, a conference after such a long time. From impeccable and reassuring preconference comms to a beautiful indoor and outdoor setting, excellent speakers and audience engagement, surprisingly unobtrusive vendors where productive conversations were held, without all the sales hype. It will certainly be a conference I will not forget and setting a standard with which, I will hold other conferences to."
–
Deborah Saffer, Global Deputy CISO, Cushman & Wakefield 




















"Where else can you find a higher quality of security leaders all in one place?"
–
Owanate Bestman, Director, Bestman Solutions 




















"Insights & experience shared by Industry leaders will definitely help me & my organization in course correcting the strategy"

Manish Dave, Lafargeholcim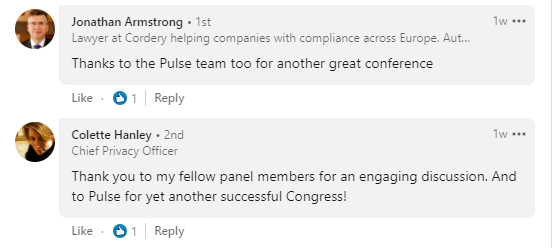 "Amazing opportunity to share experiences and to learn in a very nice environment, CISO 360 is a great experience. You meet interesting people and you can learn a lot about cyber (risk, security, threats) and share experience and knowledge with top professionals. For me it has been a great experience and pleasure to attend the CISO 360." Europe Industries- Security Officer,

Air Liquide GMS



"The team always do a great job of providing excellent content, great networking, valuable introductions and useful sponsors. The must attend event for a senior information security leader."

CISO, Euromoney Institutional Investor PLC
"Pulse always delivers the very best events so the fact that this event was impeccably organised wasn't a surprise. But the fact they delivered such an excellent event at this time with the various rule changes and restrictions placed on them was truly surprising. The team showed great strength of character and the ability to innovate. It was a super event and fun too."
–
Jonathan Armstrong, CEO, Cordery 
"Probably the one must-attend conference of the year. Excellent speakers, fast-moving pace, differing methods of delivery, just simply the best value usage of my time."
–
Julia Harris, Information Security Compliance and Assurance Director, Flight Centre UK
















"I just wanted to say thank you again for another fantastic event. I had a very good time and lots of very useful conversations."
–
Charles McAlpin, Qualys







"Absolutely excellent! The quality of the presentations, and the ideas shared, were first class. Looking forward to implementing what we learned."

Chris McCann, Resilient. World
"A meticulous and engaging event highlighting the key security concerns business leaders face today!"

Owanate Bestman, Bestman Solutions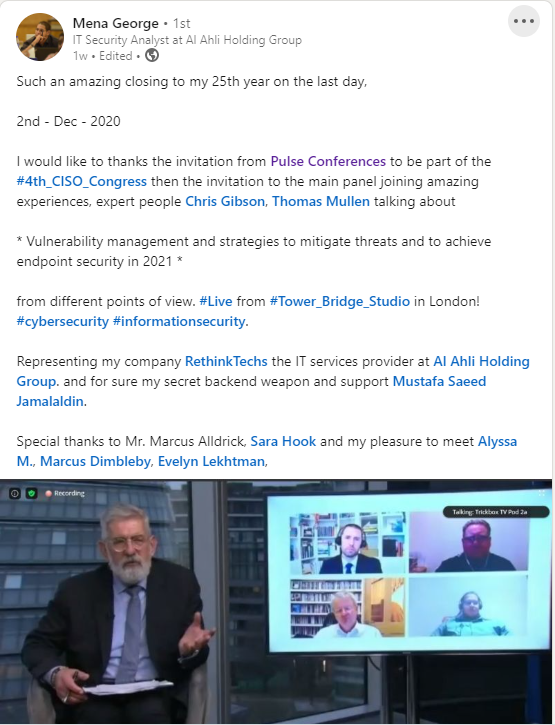 "I found CISO360 2019 extremely valuable for several reasons, primarily networking with industry peers comparing our challenges and successes stories, hearing thought provoking and inspiring content during the conference itself and also hearing updates from vendors and solution providers on their latest capability additions and developments. A very worthwhile investment of my time and I hope the conference continues to grow." Technology Services Head of Cyber Security, DWP 
"A very thoughtful event, great networking and industrial expertise in the room to learn from!"

Ryan Chan, Director, Security, Laureate International Universities Malaysia
"Excellent value for me and my organisation. Being able to engage senior level execs in the cybersecurity space on a 1-1 basis is invaluable. The evening activities were entertaining and really helped build trust and relationships."

SailPoint

"Pulse Conferences delivered a really enjoyable, informative and immersive experience with the 4th CISO 360 Congress-Hybrid. The virtual platforms were excellent, providing an effective substitute for an in-person experience. The speakers and panel sessions were engaging and knowledgeable and the avatars round-table was both informative and fun."
–
Peter Wood, Naturally Cyber LLP 
"This was great, we have a lot of good take away's and loved the lessons learned!"

Sybil Kleinmichel, 360 Treasury Systems AG
"It was great to watch live interviews rather than recorded presentations. The roundtable session on Friday was particularly interesting" 

Jennie Rogers, Vectra
"Overall Excellent Conference under challenging circumstances"

Barbara Aung, Telefonica
"If you want to hear real CISO experiences, you must attend this event!" CISO, ST Engineering, Singapore
"The best cybersecurity event that I have ever attended. I look forward to seeing you next year!"

Senior Manager, Cybersecurity, EY Singapore
"Team Pulse put together a fantastically well organised and thoroughly enjoyable event this year in Rome. The CISO 360 Pulse Conference was most informative, engaging and gave us a great opportunity for learning, networking and relationship building.  Looking forward to the next one." Synack
" Thank you Pulse for the smooth organisation of this huge logistical challenge. My team told me it worked brilliantly and that the networking was one of the most valuable parts of being a sponsor."

Company85 
"Excellent event Pulse Conferences, we very much enjoyed the opportunity to meet new contacts in both a professional and social capacity. We also had a large number of new members to ClubCISO, an added bonus…. "

Company85 

"I would like to extend my appreciation having been given the chance to witness the success of your recent event. I look forward to a further outstanding line-up of events from your organisation!"
Head of IT, intec, GOPA International Energy Consultants (Abu Dhabi)
"Excellent event, opportunity to meet likeminded professionals, sharing risk, worries, tools, best practises with
CISO from other industries sharing same issues, great eye opener, looking forward to the next event"


CISO, MS Amlin

"Nowhere else will you find such relevant content for CISO's, shared by leaders in their fields", Director Security Engineering, Inmarsat
"A very engaging, varied and interactive event. The best conference I have ever attended!"
Information Security Manager, Lloyd's of London
"The best speaker line-up of any security conference in Europe!"


Head of UK Security, AXA
"This was our first but definitely not our last CISO360! A well planned and executed event with a clear goal of providing tangible value for the participants in combination with a great community feel sure makes it a stand-out event to return to." NetClean
"CISO 360: guaranteed insight and inspiration. A triumph thanks to the Pulse team!" Chief Privacy Officer, Nokia Group 
"Pulse delivers some of the most informative and worthwhile events. Their topics, speakers and ability to engage at the highest level to secure attendance means that you are constantly engaged and come away learning something new and meeting new contacts." SailPoint

"By far the best event all year that I have attended. I always makes an effort to attend CISO 360 as it is not just an event, it is a trusted community that comes together from around the world!" Group CISO and Group DPO, MS Amlin

"A unique opportunity to share challenges thoughts and ideas with trusted friends, and gain valuable insights.", President, (ISC)2 Scotland Chapter
"CISO 360 is a must attend conference to keep up to the latest trends, best practices as well as main security concerns within the cybersecurity landscape"

GRC Specialist, Euronext

 "Pulse have raised the bar when it comes to planning and running conference events. Other organisers should take note.", CISO, Channel 4
"CISO 360 is a great experience. You meet interesting people and you can learn a lot about Cyber (risk, security, threats) and share experience and knowledge with top professionals. For me it has been a great experience and pleasure to attend the CISO 360." – CSO, Logista Portugal

"CISO 360 Congress 2019 created a strong platform for peer review, cross pollination of idea and networking." CISO, Gebauer & Griller

"Thank you, Pulse Conferences, for a great event. CISO 360 combined interesting varied talks with fantastic networking opportunities, facilitating very interesting thought-provoking conversations"


Dr Jessica Baker, Co-Founder, Socio-Technical Lead, Redacted Firm Ltd
"Great speakers, great venue, intelligent discourse, Pulse CISO 360 Congress has it all!"

Director of Information Security EMEA, Canon Europe
"The CISO 360 conference brought together a collection world leading experienced security leaders who shared their knowledge and experience with their peers in an open and collaborative manner under The Chatham House Rule. This was complimented with case studies from selected top tier partners and organisations to provoke further debate and discussion during the talks or later during one to one networking conversations. The presentations; case studies; and strategy sessions were practical and relevant because they were born out real world security challenges faced by Global CISOs across multiple sectors. I found the open knowledge sharing; networking; and presentations were very valuable to either validate existing approaches or provoke fresh ideas by getting a different perspective."


Global Head of Information Security Architecture & Transformation, Royal Bank of Scotland
"Refreshing views of security topics for knowledge improvement!"
 CISO, Credibom
""Top class speeches and presentations at the CISO 360 Congress in Barcelona! Thanks for such a worthful and enjoyable time"


CMO, Blueliv
""The conference was full of expert speakers. You wouldn't want to miss any of them. Particularly on the Boardroom/ Roundtable discussion (last day), it is like a strategic planning and facing the board of directors, but with less pressure. Excellent!"


Section Head – Planning & IT Security, Western Region Municipality – UAE Government
"An excellent event in beautiful Rome! I had an amazing time socially and professionally… made so many great connections!. " Sailpoint 
""I found CISO 360 Congress a great place to share ideas about current and future problems"


Head of Section, GMV
"Pulse Conferences stand out for being up to the minute with developments and concerns. Fist rate speakers
and an agenda that is total appropriate and informative. Excellent buzz and networking."


Lady Olga Maitland, CEO Copenhagen Compliance; Founder, Defence and Security Forum
""Interesting exchange of insights and experiences from different companies, sectors, and levels of maturity. An honour to have been there."


Head of Information Security, Risk Management and Quality, Almirall
""Pulse organised a fantastic CISO 360 Congress in Barcelona, which brought together some of the world's most successful CISOs to discuss pressing cyber security issues and share experiences. The agenda was diverse, with senior professionals from across the globe sharing their experiences, and great networking sessions were facilitated by the organisers with good food and flowing conversation. I would highly recommend CISO 360 and look forward to this conference going from strength to strength"


Freaky Clown, Co-Founder, Head of Ethical Hacking, Redacted Firm Ltd
""Excellent conference, brilliantly put together."
Director, Bridewell Consulting
Enjoyed presenting @CylonLab and our investor perspective to the #CISO360 conference today. Thanks for all the great questions!

— Jonathan Luff (@jjluff) 20 June 2018

"You brought the world's cyber concern to the UAE for awareness and also brought world experts                to provide advice based on their own experience!"

Head of Planning and IT Security, Al Dhafra Region Municipality (UAE)
"I'm very pleased to be part of this extraordinary event – very important to exchange ideas and hear experiences and ideas from peers across sectors!"

Corporate Security Manager, Logista
"Marvellous event, well-run, packed with useful content you can use", Technology Services Head of Security, DWP
Back to Pulse Conferences