Marcus Alldrick
Digital Risk Management, Security and Compliance Advisor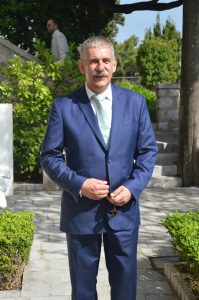 Born at a very early age and growing up in a culture where cyber was a prefix for anything automated, menacing and malevolent (how history has a tendency of repeating itself), Marcus entered the world of Data Processing as it was known back then after graduating from university. Lured by the flashing console lights (it was also the disco era), the whirl of the magnetic tape and the click clack of the keypunch machine (TSO was still a dream), Marcus became a COBOL programmer, becoming prolific in Michael Jackson's structured programming methodology (who would have known what future lay ahead for Michael).
Having moved into analysis and then data architecture Marcus became the first devolved Information Risk and Security Manager for Barclaycard. After seven years in that role he moved banks and became Head of Information Security for Abbey National plc, now Santander UK. After six years at Abbey and a move into consulting for a large UK utilities company Marcus joined KPMG as a Principal Advisor. Eighteen months later he joined Lloyd's of London as its CISO and subsequently became its Head of Digital Risk Management and Compliance, also embracing responsibility for data protection and privacy, during his 10 years tenure there.
Having worked in IT for over 40 years, specialising in information risk, protection, security and compliance for the latter 27 years or so, Marcus decided to leave full-time corporate life and move to the South Coast of England in mid-2017, ever the seafaring Fisherman's Friend. As well as being a proud member of the Pulse Conferences family, Marcus now provides pro bono advisory and volunteering services and is a guest lecturer at the University of Portsmouth.
International speaking panel 
Enquire about becoming a speaker
 We are always looking for:
keynote insights, cutting-edge 'live' demos

new best practice corporate case studies, fresh ideas, forward thinking topics on security and governance matters

sessions with actionable takeaways and positive contributions to the output reports

the world's smartest thinkers and doers in security, cyber, privacy, resilience, risk, governance, compliance
We welcome your input into shaping the agenda and speaker panels.
Our programmes are highly researched with practitioners who do the job day in and day out. They are organic to ensure that we remain agile to meet the most current requirements.
For further information, please contact Sara Hook
+44 (0)20 7936 8989 or sara.hook@pulseconferences.com
Back to Pulse Conferences