Programme –  4th Cyber Exchange 360: Talk to the Board, 1 November 2022
Agenda at a Glance
Morning – Cyber Exchange 360 (08:30-13:30)
CISOs participate in immersive case studies, fireside chats, keynotes. Benchmark strategies and be inspired!
Lunch – Buffet (13:30-14:30)
Network with peers over a delicious buffet lunch in the Palm Court.
Afternoon – Talk to the Board (14:30-17:00)
Reciprocal exchange: CISOs are invited to 'talk to the board' and ask the questions they would ideally like to ask their own Board of directors – and without any consequences!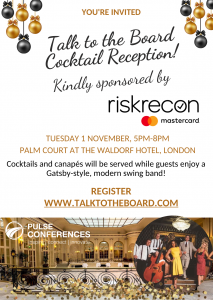 Evening Cocktail Reception (17:00-20:00) – Palm Court, The Waldorf. Kindly Sponsored by: RiskRecon, A Mastercard Company
Continue the networking directly outside the conference room in the wonderful Palm Court in the iconic Waldorf. Built in the 1800s, the hotel blends Edwardian grandeur with modern comfort, and it is said that the directors of the 1997 film Titanic took inspiration from the Palm Court space. Cocktails and canapés will be served while guests enjoy a Gatsby-style, modern swing band who will take songs from the last four decades and put their own swinging spin and vintage stylings to create an incredible entertainment experience!
Download the invitation – no need to register separately, this is part of the conference experience!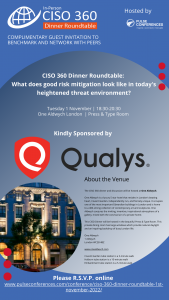 Evening CISO 360 Dinner Roundtable (18:30-21:00) – One Aldwych, Private Dining. Kindly sponsored by: Qualys
Numbers are strictly limited to 15 CISOs only, this discussion will focus on 'What does good risk mitigation look like in today's heightened threat environment?'
Read more about the dinner and register here separately – subject to availability
Back to Pulse Conferences