Thank you to everyone who participated in this years' 4th Cyber Exchange 360: Talk to the Board at the Waldorf Hotel London, 1 November. This was another ground-breaking reciprocal discussion between Board Members, CISO/CSO and C-Suite. CISOs  questioned a panel of Board of Directors and compared cyber risk strategy and tactics with peers.
We look forward to seeing you at the 5th Cyber Exchange 360: Talk to the Board conference next year. Save the date – Wednesday 8 November 2023, London!
Talk to the Board!
A rare opportunity to ask the questions you would ideally like to ask your own Board – but with no consequences!
Spanning industry sectors and functional board roles from CEO, CMO, HR, guests attended the 4th Cyber Exchange 360: Talk to the Board Conference, created and hosted by Pulse Conferences at The Waldorf Hotel London on 1 November 2022.
Our programme provided refreshing and refreshing non-security perspectives on cybersecurity – and rare opportunity to talk frankly and test questions that participants would ideally like to ask their own Board.
What are the skills, behaviours and mind set required to lead the security agenda in a pressured, complex and competing business environment and how to create a culture where cybersecurity is considered central to the way companies think and behave? Where does cybersecurity sit in the list of highest Board risks and opportunities? How has this changed in the past year and what are new expectations of CISOs and security leaders?
These are just some of the questions that were tackled in this open exchange with Board Directors from large organisations in a business agenda that covered –
Building Resilience and Preparedness to Respond to Any Crisis
Communicating with the Board
Marketing, Influencing and Collaborating
Governance, Compliance, Risk
Our Panel of Board Directors for Talk to the Board 2022  covered various sectors and functional board roles.
Josephine Fairley
Co-Founder, Green & Black's
Geoff McDonald
Former Global Vice President HR (Marketing, Communications and Sustainability), Unilever
Laura Tenison MBE
Founder & Director, Wonderful Escapes. Former Founder & CEO, JoJo Maman Bébé
Daniel Bobroff
Founder and CEO, Coded Future Formerly Co-Founder, ASOS Ventures
Agenda at a Glance – November 2022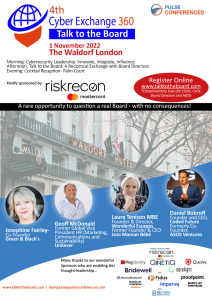 Morning – Cyber Exchange 360 (08:30-13:30)
CISOs participate in immersive case studies, fireside chats, keynotes. Benchmark strategies and be inspired!
Lunch – Buffet (13:30-14:30)
Network with peers over a delicious buffet lunch in the Palm Court.
Afternoon – Talk to the Board (14:30-17:00)
Reciprocal exchange: CISOs are invited to 'talk to the board' and ask the questions they would ideally like to ask their own Board of directors – and without any consequences!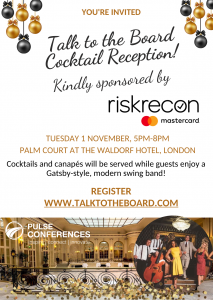 Evening Cocktail Reception (17:00-20:00) – Palm Court, The Waldorf. Kindly Sponsored by: RiskRecon, A Mastercard Company
Continue the networking directly outside the conference room in the wonderful Palm Court in the iconic Waldorf. Built in the 1800s, the hotel blends Edwardian grandeur with modern comfort, and it is said that the directors of the 1997 film Titanic took inspiration from the Palm Court space. Cocktails and canapés will be served while guests enjoy a Gatsby-style, modern swing band who will take songs from the last four decades and put their own swinging spin and vintage stylings to create an incredible entertainment experience!
Download the invitation – no need to register separately, this is part of the conference experience!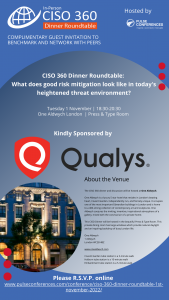 Evening CISO 360 Dinner Roundtable (18:30-21:00) – One Aldwych, Private Dining. Kindly sponsored by: Qualys
Numbers are strictly limited to 15 CISOs only, this discussion will focus on 'What does good risk mitigation look like in today's heightened threat environment?'
Read more about the dinner and register here separately – subject to availability
As a CISO why attend
Increase readiness to respond capacity – how can we better communicate during a crisis
Learn from successful examples of corporate awareness and transformation campaigns
Hear the learnings from Directors as they share success and war stories
Gain context! Board perspectives on where cybersecurity sits and useful predictions
Speak to the Board in a way that makes them understand your pain points
Compare key metrics and test them on the Board
Re-energise your approach to driving change and leading teams
As a Board Director why attend
"The session Talk to the Board was a rich discussion with two interesting themes emerging for myself. The primary ask from the Board is for them to champion the importance of Cyber security and employee Cyber vigilance across the organisation as a cultural norm. To secure this commitment the audience noted the value of having a standing agenda item on the Board annual agenda. The panel also encouraged the audience to craft carefully any presentation to the Board to focus on what outcome they were asking for and to avoid just an information update. Both the audience and panel found the event very interesting and informative." Jeremy Schwartz, Former CEO, The Body Shop, Pandora and Conival plc, Current Chairman Sustainability and Inclusion Practice, Kantar; Advisor Business, Transformation, McKinsey
"The Talk to the Board session provided a wonderful opportunity for CISOs to hear first-hand how and where they might tailor their Board interaction more strategically to achieve greater impact at this level. By doing so, board members could be better served as CISOs educate and update them about evolving organizational cyber security risk exposures and vulnerabilities. More intriguing, perhaps, was that CISO's were urged to also see risks as potential opportunities that, with careful due diligence, might be thoughtfully exploited."
Graham Joscelyne, Former Auditor General, World Bank and Chair: Audit and Ethics Committee, The Global Fund to Fight Aids, Tuberculosis and Malaria. Current Advisory Committee for Internal Oversight, United Nations (UNRWA)
"The afternoon discussion with the Board focused on a number of key themes, how to build trust with Board members, what priorities a Board cares most about and how to sustain the conversation as a rolling programme. Such diverse Board representation from Audit, Tech, Sustainability, Risk, Marketing, People and Change meant the participants could fully engage in debate across a range of challenging topics"
Deborah Exell, Former Board Member, Head of Human Capital & Business Transformation, Getronics