Sponsored by:                                                                                                                        Hosted by:


Thank you for attending!


360-degree benchmarking for CISOs on the risks, opportunities and current uses of Artificial Intelligence and Machine Learning



19 March 2019 – London Film Museum


Roundtable discussion – 13:45-17:00
Networking reception & private tour of the Bond in Motion exhibition – 17.00- 19:00
Registration for this event is now closed.
* Please note that registration for this particular event was only open to CISOs and similar senior cybersecurity and risk practitioners currently working in-house (rather than for service providers to the CISO community). All online registrations were subject to final approval by Pulse Conferences.
This special AI 360 Roundtable provided the opportunity for CISOs and senior cybersecurity and risk professionals to benchmark current approaches and practical case uses of Artificial Intelligence and Machine Learning.
From automating detection, prediction, prevention of cyber attacks, through to AI in risk mitigation of cybercrime threats, building smart chatbots and use in authentication, attendees shared experiences with fellow CISO peers on the current practical uses of AI in cybersecurity. As many artificial intelligence deployments are just taking flight, and as companies plan to launch AI initiatives in the next few years, this was the perfect time to explore the innovation on the horizon that constantly offers opportunity, and with it, new risks.
CISO peers shared challenges, successes, failures and plans for AI in cybersecurity!
Benchmark with other CISOs on practical uses of AI in cybersecurity and compare challenges and successes
Separate the myth from the realities by participating in this veritable '360' empowering format
Share latest thinking on cybercrime: prevention, detection, mitigation and attribution of attacks against cyber threats
Keep updated on privacy threats, innovation and adversarial machine learning intelligence and the challenge to recognize the unknowns
Network in a trusted CISO community – the entire event is held under the Chatham House Rule
A multi-faceted '360' look at how the CISO community is engaging with AL/ML, the new frontier in cybersecurity!
Topics for Discussion
ROUNDTABLE 1: Security & AI/ML – Practical deployments
Understanding the threat landscape and sharing on approaches to security hygiene though the use of AI
How do we focus on those threats that are relevant to our organisation?
How is AI being used in authentication?

ROUNDTABLE 2: Prevention vs. Remediation
How do we prepare for the inevitable security incident?
How do you select the necessary tools, methods and practices to enable prediction in information security?
How can we reduce successful attacks, decreasing the technology and personnel resources required for costly detection and response activities?
Examples of how developing advanced insight with secure protocols can shield critical assets from harm

ROUNDTABLE 3: Increasing Productivity with AI/ML – Leveraging AI for cybersecurity
How do we achieve ROI with artificial intelligence?
Making best use of available resources – using AI to skill up
How do we justify what security improvements to focus on?
How do we quantify the cost of potential breaches to fund a sustainable cybersecurity programme?

ROUNDTABLE 4: Risk Reduction and Mitigation
How can we reduce risk without increasing cost? How are we currently mitigating risk using smart, predictive AI?
Open risk appetite – sharing the good and the bad experiences with AI cybersecurity on supply chains
Address the challenges of cyber risks for digital transformation, innovation, future of work and sustainable development goals
Do we believe that AI can guide international standards for the ethical use of technology?
Timings – PM Only
13:45-14:00 Arrivals, tea and coffee
14:00-14:05 Short Introduction by MC  – Clive Room, Director of Events, Pulse Conferences
14:05-14:10 Welcome by Co-Chairs
14:10-14:15 Keynote – Cylance Executive Update – Daniel Doimo, President & COO, Cylance
14:15-14:25 Setting of objectives – Dr. Anton Grashion, Cylance
14:25-15:25 Roundtables 1-4 working each on a chosen 1st perspective
15:25-15:35 Short coffee break and participants rotate to chosen new table. Facilitators remain fixed to their table.
15:35-16:35 Roundtables 1-4 working each on a chosen 2nd perspective
16:35-16:55 Conclusions and feedback – What do we see as the risks, opportunities and game-changers of AI/ML?
Table co-facilitators share back key findings to the whole group (5 minutes per table)
16:55-17:00 Close of Roundtable
17:00-19:00  Networking Reception – Drinks, canapes and private viewing of the Bond in Motion Exhibition!
How it Works
Two co-facilitators (a CISO practitioner and a senior strategist from Cylance) will lead each table.
The two co-facilitators and a pre-assigned note-taker will remain fixed to each table to lead and capture the key discussion points, observing The Chatham House Rule.
Each of the 4 tables will focus on a given different perspective of the Ai security landscape and practical use case sharing to consider.
Attendees are asked to select 2 out of the 4 Roundtables (you can change your mind from pre-selections!)
Guests will rotate tables once.
Once all the feedback has been compiled and written up, the end-result will form the output report, a PowerPoint that will be distributed to all attendees in the weeks following the event with the combined thoughts and conclusions from the participating leading companies, again observing The Chatham House Rule.
Networking reception and private viewing of the Bond in Motion exhibition – enjoyed by all!
After the discussions, participants were invited to take advantage of a private viewing at the London Film Museum, The Bond in Motion Exhibition – the official exhibition of James Bond vehicles that feature in the renowned film series. It is the largest display of its kind ever staged in London!  Attendees of the AI 360 Roundtable were treated to a private viewing of the exhibition, at the networking reception.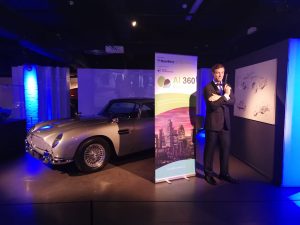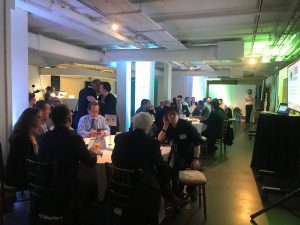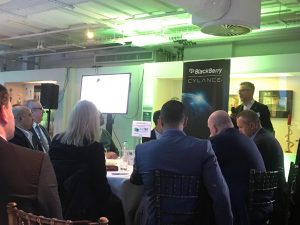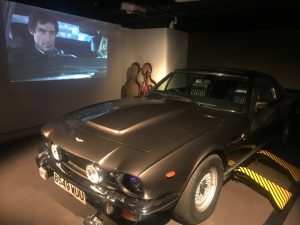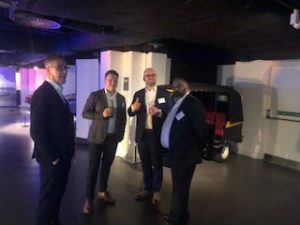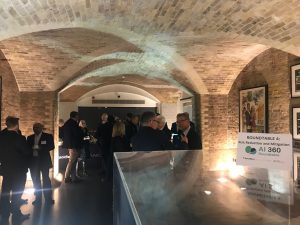 Pulse Innovate Report based on key output from the AI 360 Roundtable – will be made available soon!
Produced by an industry-recognised, senior cybersecurity policy advisor and international public affairs and communications expert, Lyndsay Turley, your input to the conversations at AI 360 Roundtable will form the basis of an industry report that will capture the key conclusions and provide a wider commentary.  The content will reflect a 'live' view and practical outcomes on the challenges, opportunities and risks of AI in cybersecurity, as voiced by the attending CISOs.  As an attending participant, you will be amongst the first to receive the report – valuable insights and tools to help CISOs in their role and the cyber risk posture of organisations! Attendees of the event will be the first to receive the report!
See a recent example of a Pulse Report here.