"If you want to hear real CISO experiences, you must attend this event!"
– Chuan-Wei Hoo, CISO, ST Engineering Singapore
"A very thoughtful event, great networking and industrial expertise in the room to learn from!"
– Ryan Chan, Director, Security, Laureate International Universities Malaysia
"The best cybersecurity event that I have ever attended. I look forward to seeing you next year!"
– Manoj Wadhowa, Senior Manager, Cybersecurity, EY Singapore
---
Connecting minds and building global trust and resilience in cybersecurity and innovation
Created and hosted by Pulse, we invite you to join the 3rd CISO 360 Asia & Oceania Conference, 26-27 September 2023 in Singapore.
An engaging and immersive experience, you will be given the time and space to debate and bond with peers and to have those nuanced conversations. This is an ideal opportunity to meet CISO peers to engage, learn and benchmark security priorities – someone in this room will have the answer to your biggest challenge! Led 'by, with and for' CISOs and senior cybersecurity practitioners from across industry sectors, this truly international speaker panel will span Singapore, the wider Asia and Oceania region, UK/Europe, U.S., and the Middle East. Top CISOs are being selected to share their knowledge and experiences. Join this leading influential community of C-suite and senior cybersecurity executives for quality face-to-face and interactive engagement, learning and networking.
Deep insights into what good security looks like, what are new expectations

Focus on the top priorities input in advance by CISOs

Trusted community ambience – a forum for the exchange of knowledge and experience

Cross-industry approach – share ideas beyond your inner circle

Networking events included – lunches and evening networking schedule to maximise your time with peers Increase readiness to respond to a crisis through scenario planning exercising

Compare key metrics, pain points and approaches with CISO peers on roundtables

Stay updated on the threat horizon, culture and workforce
Our distinguished international speaker panel includes.. 
Alex Quintieri, Global CISO, FWD Insurance (Singapore)

Anuprita Dagar, President, CISO, YES BANK (India)

Arran Purewal, Director of Detection & Response, WithSecure (UK)

Bo Gao, Managing Director, AI Club Asia (Singapore)

Chris Farrelly, CEO, HANDD Business Solutions (Kuala Lumpur)

Damir Savanovic, ICS GRC – Cloud Controls Lead, WTW (Spain)

Daniel Brunner, CSO, Medmix (Switzerland)

David Kennedy, River Guide (New Zealand)

Derek Cheng, CISO, Deliveroo (UK)

Dimitri Chichlo, Former CISO and NED. Current CEO and Founder, AndSecure (Switzerland)

Dr Eduardo Solana, Senior Lecturer, University of Geneva (Switzerland)

Fal Ghancha, CISO, DSP Asset Managers (India)

Jacqueline – JJ Jayne, Security Awareness Advocate – APAC, KnowBe4 (Australia)

Jelena Matone, CISO, European Investment Bank (Luxembourg)

Leong Boon Ang, Head of IT Security, National University of Singapore (Singapore)

Linda Nguyen Schindler, Director of AI Competence Center (Asia), German Entrepreneurship Asia (Singapore)

Mark Snel, CISO, Signify (The Netherlands)

Narendra Mainali, Chief Digital Strategy Officer, NIC Asia Bank (Nepal)

Nicola Sotira, Head of CERT, Poste Italiane (Italy)

Peter Kobs, SVP, RiskRecon by Mastercard (U.S.)

Phoram Mehta, Senior Director and CISO APAC, PayPal (Singapore)

Ray Stanton, CSO/CISO, NED, Investor (United Kingdom)

Dr Runli Guo, CISO (Corporate), Worldr (UK)

Sounil Yu, CISO, JupiterOne (U.S.)

Steve Ramsden, CISO, The Global Fund (Switzerland)

Tarun Kumar, CISO, Nissan Digital (India)

Lady Olga Maitland, President & Chairman, Defence and Security Forum (UK)

Dr. Sally Leivesley, Managing Director, Newrisk Ltd (UK)

Stephen Cavey, Co-Founder, CEO and Chief Evangelist, Ground Labs (Singapore)

Dr. Viktor Polic, CISO, Head of Information Security and Assurance, ILO – United Nations (Switzerland)
Read more about our Speakers
here.
Why Attend?
CISO-to-CISO benchmarking and learning about what works and what doesn't – valuable time saved!

Top speakers from the Asia & Oceania region and from around the world, specifically chosen for the differences they will bring to the table

Agenda driven and shaped by CISOs – top priorities are input in advance by CISOs

Evening networking experience included! Engage with 100+ colleagues, peers, and industry thought-leaders at receptions, dinners, and cultural activities. Enduring connections are guaranteed!

Immersive agenda – enjoy a range of keynotes, topical debates, practical corporate case studies, deep-dive industry focuses, scenario planning and think tanks on emerging priority areas.

Learning and personal development through relevant high quality speaker sessions, as well as interactive and group engagement opportunities. 

A 360 perspective – journey beyond the security 'echo chamber' to share non-security views from business leaders, board members, innovators, investors, and ministries

Natural integration between inhouse security, supply chain and technology providers

Post conference materials including certificates, reports, and presentation summaries (subject to speaker opt-out) can be provided to help maximise value

Access to

Pulse Security Circle

– a rapidly growing and international trusted community for CISOs, CSOs, senior security practitioners, technology luminaries and industry commentators that meets virtually and in-person to share insights and to benchmark strategies
The event is conducted within a trust-based community in an inspiring environment, held under The Chatham House Rule (who says what is unattributed).
Agenda at a Glance 2023
Monday 25 September 2023
19:00-21:00 Welcome Reception – The Lawn, Sofitel City Center Singapore
Tuesday 26 September 2023
09:00-17:30 Conference – Sofitel City Centre Singapore
18:00-21:00 CISO 360 Dinner – Tamarind Hill. Kindly sponsored by RiskRecon by Mastercard 

Wednesday 27 September 2023
09:00-16:00 Conference 
Join for the CISO 360 Asia & Oceania Dinner – included in the Conference!
View invitation
If you are already part of the conference you will be automatically registered to join the dinner.
If you cannot join the Conference but would like to join for the Dinner, please register at www.ciso360asia.com.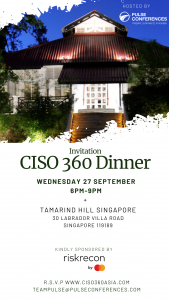 Thank you for everyone who participated in last years' 2nd CISO 360 Asia & Oceania,
13-14 September 2022 at The Fullerton Hotel Singapore. See downloads and highlights here.