Highlighted Keynote Speakers
Angela Oguntala
Founding Partner, Greyspace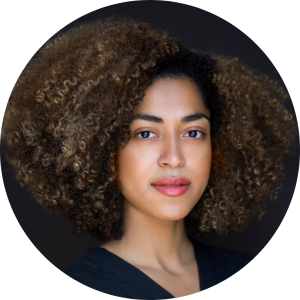 Named a Future Innovator by the United Nations, Angela Oguntala is a futurist and global authority on foresight and innovation. She is a founding partner at Greyspace, a foresight consultancy. Across the globe, she helps organizations understand and innovate for a world in transition. Her clients have included IKEA, Hermès, Philips, Sky, Deloitte, The World Economic Forum, The World Trade Organization, Microsoft, Bayer and Swiss Life. Angela has advised visionary leaders in diverse industries, working to embed new mindsets that leverage radical experimentation, collective imagination, innovating with purpose, and sustainable transitions. Over the past decade, Angela has been asked to speak on a wide range of future-facing topics. She has delivered over 100 keynotes worldwide on themes including: innovating through uncertainty, emerging technology impacts, leadership & organizational foresight, sustainability, trends, as well as on specific domains encompassing the future of work, healthcare, media, and cities. Angela leaves audiences with insights, inspiration, and actionable tactics to engage with significant shifts ahead, and to critically question what needs to shift to meet future demands. She is a Salzburg Global Fellow for leaders challenged to shape a better world and has been featured as an expert on futures thinking on various outlets including Sky, TED, and NPR. Angela shares her time between the East Coast of the US and Copenhagen, Denmark. You can often find her by a body of water, either sailing with her husband or winter bathing in the early morning hours.
Steven Bartlett



Investor, author, content creator and the host of Europe's No.1 podcast,
'The Diary of a CEO'
Steven Bartlett is the 30-year-old Founder of the social media marketing agency Social Chain. From a bedroom in Manchester, this university drop-out built Social Chain Agency, which would become "Social Chain AG" – a social commerce marketing group. He led Social Chain AG as Co-Founder & Co-CEO's with Wanja Oberhof until he stepped down in 2020 to pursue other interests. The marketing-commerce group reached a market valuation of more than $600m and is currently listed on a European stock exchange. Steven Bartlett is a speaker, investor, author, content creator and the host of Europe's No.1 podcast, 'The Diary of a CEO'. In 2021 Steven released his debut book 'Happy Sexy Millionaire' which was a Sunday Times best seller. Steven is particularly focused on inspiring a new generation of entrepreneurs and creators from a BAME background.Steven has invested in and joined the board of Huel, which is the UK's fastest growing e-commerce company internationally. He's also invested in, and taken a role as an advisor in Atai life sciences – a biotech company working to cure mental health disorders. Other investments focus on blockchain technologies, biotech, space, Web 3 and social media.Steven has invested in Flight Story & Third Web.Flight Story is a company focused on building resilient retail investor communities around great public companies. Third Web is a platform that makes it easy to build web3 applications.At just 30 years old, he is widely considered one of Europe's most talented and accomplished young entrepreneurs and philosophical thinkers.Steven joined Dragon's Den from Series 19 in January 2022, as the youngest ever Dragon in the Show's history. The hit TV show is returning January 5th 2023.
Bryan Habana
Mastercard Global Ambassador & South African Rugby Legend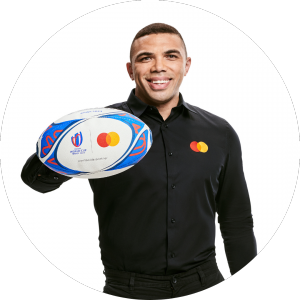 Widely regarded as one of the greatest players to ever play the game, Bryan Habana is a star of South African rugby who was capped more than 100 times by his country and won almost every trophy the game has to offer. Bryan Habana was inducted into the RugbyPass Hall of Fame in 2021. Born 12 June 1983, Bryan Habana was incredibly talented from a young age. However, a move from inside centre to the wing really transformed his career and turned him into a star. He made his debut for the Golden Lions in 2003 and made his South Africa debut a year later. In his glittering domestic career, he plied his trade in both South Africa and France, making more than 200 domestic appearances. He was also capped 124 times by his country between 2004 and 2016. Throughout his distinguished domestic career, Bryan Habana won the Currie Cup twice, Super Rugby twice, the Heineken Champions Cup twice and the French Top 14 once. In addition to this, for South Africa, he won the Rugby World Cup in 2007, the Tri Nations (now The Rugby Championship) in 2009 and won a series against the British and Irish Lions in 2009. On top of all this, Bryan Habana also won several individual honours throughout his career, including the IRB Player of the Year once and the SARU Player of the Year three times. By the time he ended his international career in 2016, Bryan Habana also held the record for the highest number of tries scored at Rugby World Cups with 15 (equal with Jonah Lomu) and was the second-highest all-time test try scorer with 67. Bryan Habana retired from all forms of rugby in 2018. Since, he's worked in various punditry roles. He also works as an ambassador and gives talks all around the world.
Georgie Barrat



Gadget Show presenter and tech journalist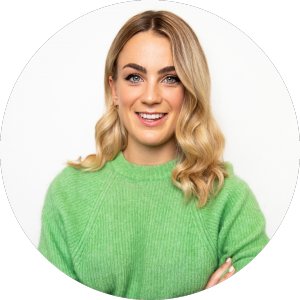 Georgie Barrat is a technology journalist, broadcaster and presenter. At the beginning of 2017 she joined The Gadget Show's new presenting line-up and has spent the past four years testing and reporting on the latest consumer technology. ​In 2019 Georgie also presented the BBC's FIA formula E's Championship coverage. Alongside her work on the Gadget Show, Georgie has reported for ITV Tonight, Good Morning Britain, ITV Weekend and has appeared on The Jeremy Vine Show (formally The Wright Stuff). Most recently Georgie featured on 'How to spend it well at Christmas' alongside Phillip Schofield, selecting some of the best gadgets on offer for gift ideas in 2020. She also comments on breaking tech stories for Channel 5 News, Radio 5 live, talk radio & BBC Radio 2. Away from reviewing the latest apps and devices Georgie is interested in how technology is disrupting the way we work and socialise. Her keynote exploring future tech trends has taken her all over the world, being invited to speak at events including Web Summit, Mobile World Congress and Smart City Expo. Her writing credits extend to a range of publications including The Mirror, Tech City News, The Guardian, Marie Claire & The Metro. Georgie is passionate about women working in technology and devotes time to encouraging more girls to be involved in STEM subjects. She works alongside Girls in ICT, the IET and Childnet striving to make technology and the digital world as exciting, safe and inclusive as possible. She also spent 2020 developing her relationship with Service Now, an American based software company, hosting numerous webinars and live broadcasts to a global audience. ​Georgie has hosted two podcasts; "The Tech Disruption Series" that saw her interview various start-ups that are disrupting industries and "Sleep Life", a podcast all about sleep, one of her favourite pastimes! Not one to shy away from a challenge she has a world record for the longest time anyone has been in VR (26.5 hours, if you are wondering) has run the London Marathon and bungee jumped whilst wearing a VR headset (terrifying, if you are wondering). ​Georgie brings a genuine interest and warmth to everything that she does. Her journalistic background, yet playful presenting style means audiences are quick to like her.
Luis Figo
Mastercard Ambassador & Portuguese professional footballer Winner of the Ballon d'Or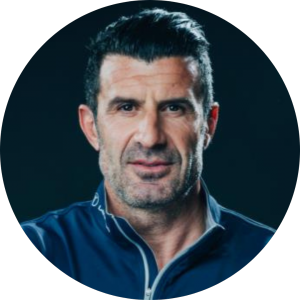 Luis retired from football in May 2009 having played 127 times for Portugal. He was the most capped player in Portuguese history until passed by Cristiano Ronaldo in June 2016. He was the 2000 European Footballer of the Year and the 2001 FIFA World Player of the Year. A classic midfield player, Luis was able to beat opponents at will, possessed a powerful free kick and was able to keep his strikers supplied with accurate passes. He began his club career with Sporting Lisbon before moving to FC Barcelona in 1995 where his career really took off. At Camp Nou, he won a UEFA Cup Winners' Cup title in 1996–97 and successive La Liga titles. He played 172 times for Barcelona, scoring 30 goals, before being transferred to Real Madrid for a record €60 million in 2000. His arrival at the Bernabeu marked the beginning of the Galactico Era there and he was a member of the team which won the La Liga title in 2001 and 2003 and the 2002 UEFA Champions League. He moved to Internazionale of Milan in 2005 on a free transfer, eventually retiring in 2009, the day Inter won the 2008/09 Serie A title. Luis made his debut for the Portuguese national team in October 1991, when just 18, and played at the highest level throughout his career, playing in the European Championship in 1996, 2000 and 2004 and in the FIFA World Cup in 2002 and 2006. He became a Laureus World Sports Academy Member in 2015 and is also an ambassador for the Stop TB Partnership in the fight against tuberculosis. He works closely with Inter Milan, serving as an ambassador for the club. He is also a board member of the Inter Campus charity project run by Inter.
Allie Miller



Former Head of Machine Learning at Amazon, AI Angel Investor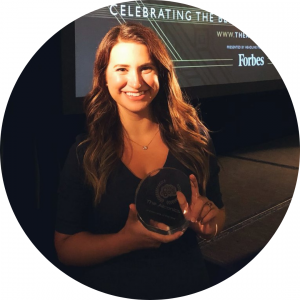 Allie Miller is a top artificial intelligence leader, advisor, and investor. Previously, Allie was the Global Head of Machine Learning Business Development for Startups and Venture Capital at Amazon (AWS), advising the top machine learning researchers, founders, and investors in the world. She was the first hire and ran the business to become a 100-person 10-figure organization inside AWS. Prior to that, Allie was the youngest-ever woman to build an artificial intelligence product at IBM—spearheading product development across computer vision, conversation, data, and regulation for thousands of companies. Outside of work, Allie is changing the game of AI. Allie has spoken about AI around the world, advises on global AI public policy, and created over 10 guidebooks to educate businesses on how to successfully build, scale, and outperform with AI. Allie was named as AIconic's 2019 "AI Innovator of the Year", LinkedIn Top Voice for Technology and AI 2019–2023, Award Magazine's Top 50 Women in Tech and Top 100 Global Thought Leaders, Chief in Tech's Top 100 Women in Tech to Watch in 2022, ReadWrite's Top 20 AI Speakers in the World, MKAI's Top 20 AI Mavericks, Data Salon's Top 25 Data Science influencers in the world, and Neptune's Top 20 AI Influencers. Allie is also the co-founder of Girls of the Future, a national ambassador for the American Association for the Advancement of Science (AAAS), an ambassador for the 10,000-person organization Advancing Women in Product, an angel investor in machine learning startups, and has won the Grand Prize in three national innovation competitions. Allie holds a double-major MBA from The Wharton School and a BA in Cognitive Science (coding a three-year ML study and studying Computer Science, Linguistics, Psychology) from Dartmouth College.

Mike Walsh



CEO, Tomorrow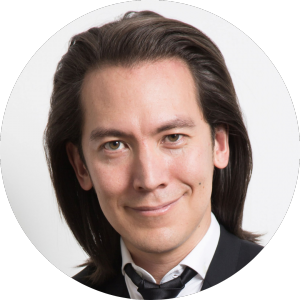 Mike Walsh is the CEO of Tomorrow, a global consultancy on designing companies for the 21st century. For the past twenty years, he has been a leading authority on disruptive innovation, digital transformation and new ways of thinking. A global nomad from a diverse ethnic background, futurist and author of three bestselling books, Mike advises some of the world's biggest organizations on reinvention and change in this new era of machine intelligence.  A specialist in AI-powered transformation, Mike's work and research was recently profiled by the Rotman School of Management. His talent is being able to bridge the two worlds of disruptive technology and business leadership, translating deep tech into pragmatic recommendations for leaders to seize new opportunities, transform their organizations, and change their own thinking. Mike is a prolific researcher who interviews innovators, scientists, entrepreneurs and corporate revolutionaries every year. Many of these conversations feature in his popular podcast, Between Worlds. A skilled facilitator, he excels at fireside chats with CEOs, customers and other thought leaders. He brings this consultative approach to personalizing insights and recommendations for his audiences, specializing in identifying 'mind grenades' or provocative questions that will challenge your team and stretch their thinking. A prolific writer and commentator, Mike's views have appeared in a wide range of international publications including Inc. Magazine, BusinessWeek, Forbes and the Wall Street Journal. Recently, LinkedIn invited Mike to publish his weekly newsletter Tomorrowist about next generation leadership. A regular contributor to the Harvard Business Review, his articles explore a wide range of cutting-edge leadership topics including data-driven decision making, agile organizations, algorithmic management and AI ethics. Mike's latest book, The Algorithmic Leader, offers a hopeful and practical guide for reinventing leadership and organizations. The book has been a global hit and is now available in Chinese, Japanese, Korean, German, Polish and Russian. In 2019, The Algorithmic Leader was selected to be given to the world leaders and executive attendees of the Ambrosetti Global Forum at Villa d'Este in Cernobbio, Italy. Futuretainment, Mike's first book, was published by Phaidon and was the winner of the design award by the Art Director's Club in New York. Released in 2009, it predicted how the smartphone would reshape the media and marketing industry, and the imminent rise of social media, digital influencers and streaming entertainment. In The Dictionary of Dangerous Ideas, Mike anticipated breakthroughs in micro satellite networks, cryptocurrencies, remote work, digital protest movements, self-driving cars, drones and digital biology. A dynamic and engaging keynote speaker, Mike has given more than 1,000 talks over the last decade, from strategic briefings for the boards of companies like Verizon and Raytheon, to an employee summit for a healthcare corporation that filled a sports stadium with an audience of over 25,000 people. In addition to both in-person and virtual presentations, Mike also works with enterprise learning and development leaders to create compelling programs to up-skill teams for a world of AI-powered competition.
Back to Pulse Conferences